Effective measures to control papaya mealybug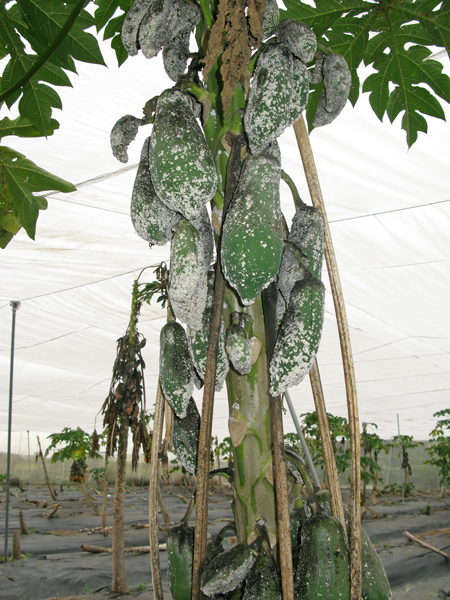 Figure 1: Papaya seriously damaged by papaya mealybug.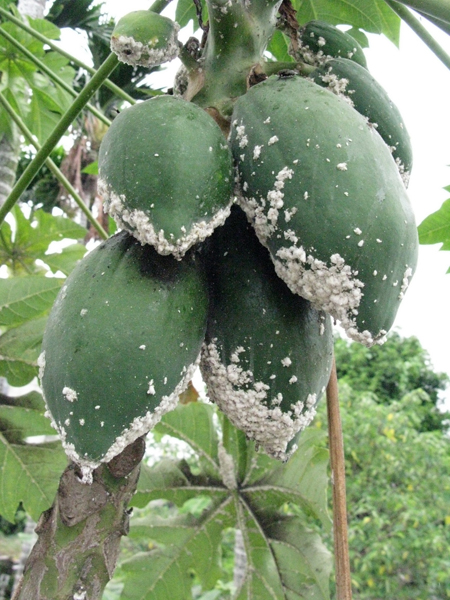 Figure 2: Papaya mealybug on the papaya fruit.
After papaya mealybug invaded Taiwan in recent years, its populations have expanded explosively during papaya growing and fruiting seasons, causing serious damages and in some cases even destroying the entire crop. To develop effective control measures, TARI has discerned the life cycle and habits of papaya mealybug, and is continuously monitoring the population densities of the pest and the affected areas. And farmers are advised to take control measures in time to ensure continued production of high quality papaya.
Infestation on a wide host range
During the hot summer months, populations of papaya mealybug increase rapidly, causing serious damages to papaya plants and fruit. Moreover, having a wide range of host plants, it also poses a threat to other food crops like guava, eggplant, and leafy sweet potato, as well as ornamental plants such as hibiscus and frangipani. In Taiwan, although papaya is mainly cultivated in screenhouse, once this pest invades and is not immediately eradicated, it could wipe out the entire crop.
Rapid multiplication aggravated by an invasive weed
The nymphs and adults of papaya mealybug inflict the overground parts of plants (stems, leaves, flowers, and fruits) with their piercing-sucking mouthparts, causing the yellowing and falling of leaves, and deformed fruits. The honeydew secreted by mealybug can support growth of black sooty mold, which interferes with photosynthesis and affects fruit quality. During papaya's fruiting season, the populations of this pest can shoot up drastically within 2 to 4 weeks. With a slight oversight, the time to control the pest will be gone, resulting in devastating loss. An invasive blackjack (Bidens pilosa), which spread like wildfire all across Taiwan during hot summer season, is the preferred host plant of this pest and the major source of the pest's dispersion. Thus, for effective control of mealybug, this weed should be eradicated completely.
Effective control measures
Papaya mealybus usually occurs on the underside of leaves, and on new leaves, new buds, bud eyes on the bark, juncture of overlapping fruit, and juncture of fruit and bark. When applying chemicals that have been authorized and announced by the government to be effective against mealybugs, the spray nozzle should be adjusted to spray a fine mist, and the application continued several times so that the liquid can fully spread to hard-to-reach pests to achieve the best effect. After discerning the life cycle and habitat of this pest, TARI scientists have come up with the guidelines of proper use of authorized chemicals. Moreover, for a complete eradication of the pest, TARI scientists have developed an integrated management that includes production of pest-free seedlings, cleaning the fields (completely removing the infected part or the whole plants to prevent them from infecting the surrounding crops), removing host weeds such as blackjack, and controlling ants (ants feed on honeydew secreted by mealybugs and spread the pest to neighboring plants).
Continuous monitoring of the pest
To reduce papaya mealybug's infliction on papaya and other crop plants, TARI scientists have developed a technology to continuously monitor the population density of this pest all year round, and survey the host crop range of this pest (currently known to infest 33 species from 20 families) for timely recommendation of effective control measures. In addition, TARI scientists are investigating the natural enemies of either local or foreign species for effective biological control of this pest in order to ensure farmers can continuously produce high quality papayas.
| | |
| --- | --- |
| Figure 3: Widely distributed in farm land or road side, blackjack is a major host plant of papaya mealybug, and is often the loose end in controlling this pest's dispersion. | Figure 4: Ants 'farm' papaya mealybugs for their honeydew, resulting in a wide spread of this pest. |