Evaluation of Flower Thinning Applied to Yardlong Bean Production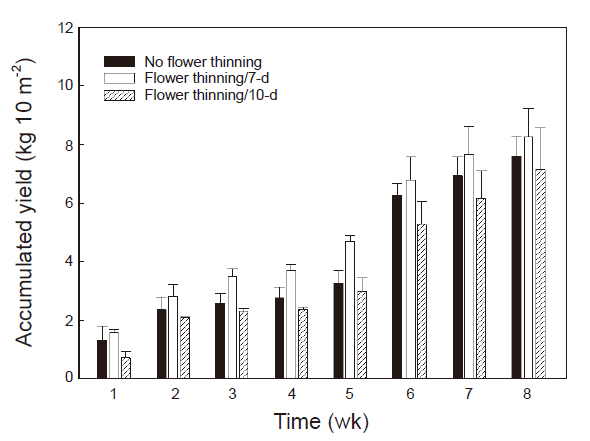 Influence of different flower thinning intervals on the accumulated yield of yardlong bean. Error bars show the standard error of the mean (SE).
Author:Chen-Yu Lin, Ya-Suie Hwang, Hsiang-I Lee, Hui-Ling Lo, and San-Tai Wang*
Abstract:
Due to fungal infection, using fungicide on yardlong bean during the harvest period is unavoidable. Application of fungicide caused fungicide residue on mature pods, as a result, the pods could not meet the recommended standards for edible period. In this study, we used flower thinning technique by spraying fungicide at juvenile pod stage instead of mature pod stage. The influence of flower thinning on yield of yardlong bean was evaluated. The results demonstrated that accumulative yield of 7-d interval of flower thinning treatment was significantly higher than 10-d interval. Hand thinning stimulated flower formation. The weekly yield of flower thinning treatment showed no significant difference compared to no thinning treatment. The trial attempted to improve hand flower thinning practice for saving labor cost. In consideration of food safety, organic materials were used as flower thinning agent in this study. The flowers dropped or delayed growth without leaves burning after treating organic material B. Phosphorus acid and potassium hydroxide mixture could effectively substitute hand flower thinning in yardlong bean production. However, the efficacy of flower thinning was affected by climatic interference in the field such as rain. The results indicated that the better ratio of phosphorus acid to potassium hydroxide was 1 : 0.7 and the mixture had a potential to use as flower thinning agent.
Key words:Yardlong bean, Flower thinning, Yield, Phosphorus acid, Potassium hydroxide
Download:

PDF Links