A Preliminary Study on Control Efficacy of Chemical Insecticides and Colored Sticky Cards against the Sweet Potato Flea Beetle (Chaetocnema confinis Crotch)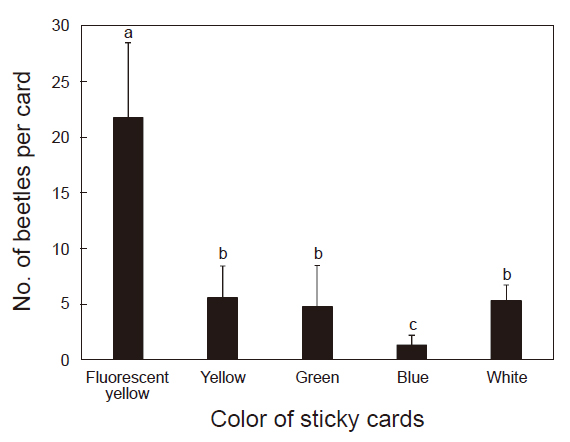 Number of adults of Chaetocnema confinis captured per sticky card of different colors. Each bar represents means and standard deviations (SDs) of 8 replicates. Bars with the same letter are not different significantly by the least significant difference (LSD) test at 5% level.
Author:Yu-Ping Liang and Po-Hung Chen*
Abstract:
The sweet potato flea beetle (Chaetocnema confinis Crotch) is a common pest of sweet potato. The larvae and adults feed on storage roots and leaves, respectively, reducing the quality of both parts. Because of the lack of research on its control techniques, this study focused on C. confinis adults, evaluating the efficacy of currently recommended pesticides and sticky traps of various colors, heights, and orientations. The efficacy of 9 pesticides against C. confinis was assessed by the leaf disc method, and the results showed that acetamiprid (20% wettable powders; WP), dinotefuran (20% water soluble granules; SG), fenvalerate (20% emulsifiable concentrates; EC) and profenofos (43% EC) caused the greatest mortality, which reached 96, 82, 82 and 82% on the third day, respectively. In the sticky trap experiments, fluorescent yellow colored traps attracted the most C. confinis (21.8 beetles trap-1) among 5 colors (fluorescent yellow, yellow, green, blue and white), while blue was the least attractive (1.4 beetles trap-1). According to the spectral reflectance curves of the colored sticky cards, the green light with wavelengths around 530 nm might be more attractive to C. confinis. Besides, the traps hung lower than the sweet potato leaf canopy captured the most C. confinis, and the number captured decreased as the height increased. Lastly, trapping effectiveness was also affected by trap orientation. The sticky cards oriented to south captured the most C. confinis (38.8 beetles trap-1), while those facing the north captured the least in this single experiment.
Key words:Sweet potato flea beetle, Insecticide, Colored sticky cards
Download:

PDF Links