Polyploidization and Selection of Parents for Improving Breeding of Blue-Purple Phalaenopsis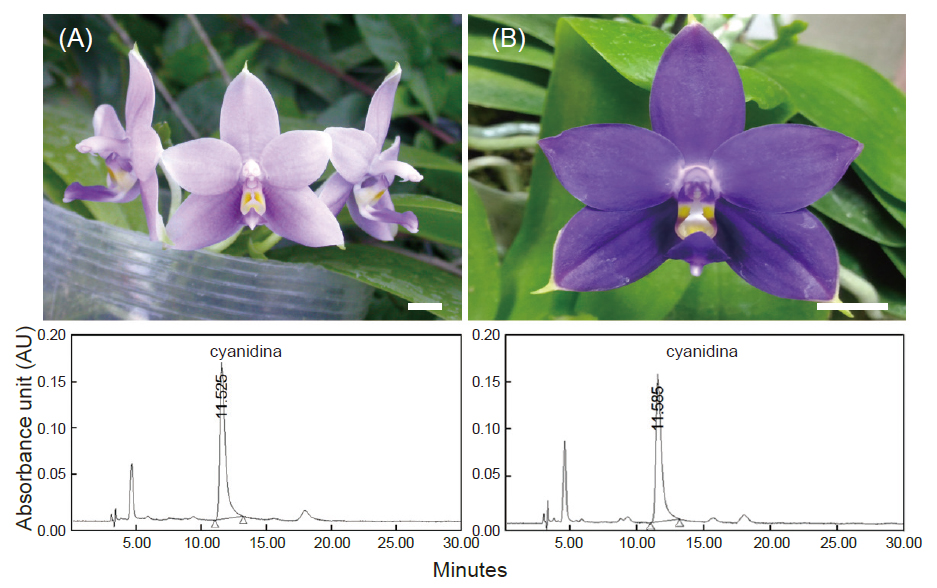 Anthocyanin composition of light and dark blue-purple flowers analyzed by high-performance liquid chromatography (HPLC), (A) P. violacea fma. coerulea 'Taiwan' and (B) P. violacea fma. coerulea 'Norton USA Indigo'. Bars = 1 cm.
Author:Chin-Yi Tsao, Uei-Chern Chen, Rung-Yi Wu, Tzu-Ying Wu, and Chi-Ni Hsia*
Abstract:
Polyploidy induction and selection of parents by pH of flower petal were used as strategies for improving breeding of blue-purple Phalaenopsis in this study. Using 6-wk-old protocorms of Phalaenopsis bellina fma. coerulea, Phalaenopsis equestris fma. coerulea and Phalaenopsis Siam Treasure as explants exposed in 0.1 mM colchicine for 8 d to induce polyploidy. Ploidy levels of seedlings derived from colchicine treatments were analyzed by flow cytometry and root tip staining. Results showed that survival rate among two species and one variety were 59.2–85.0%, and their tetraploid induction rates were 27.3–32.9%. Comparison of horticultural traits of diploid and tetraploid plants showed that all tetraploids had firmer petal texture than that of diploids. It was also found that tetraploids of P. bellina fma. coerulea and P. equestris fma. coerulea had larger flower diameter than that of their diploids. Although tetraploid plants of P. Siam Treasure had similar flower diameter with diploid, tetraploid plants had thicker and shorter stalk than their diploids. The hybridization compatibility of tetraploid plants would need more crossings for investigation for further information. It showed that average pH values of blue-purple petal Phalaenopsis were more alkaline (pH about 5.22–5.42) than that of other colors flower. Selection of other colors from Phalaenopsis varieties with higher values of petal pH (pH about 5.33–5.38) as parents to cross blue-purple Phalaenopsis varieties were conducted in this study. Results showed that a significant higher percentage of 0.2–62.0% blue-purple progeny was found than that of using random parents without pH selection on parents. This pH-based parental selection would improve breeding for blue-purple Phalaenopsis varieties.
Key words:Blue-purple Phalaenopsis, Cyanidin, Colchicine, Polyploidy, Flow cytometry
Download:

PDF Links