Evaluation of Control Efficacy of 4-4 Bordeaux Mixture Against Coffee Rust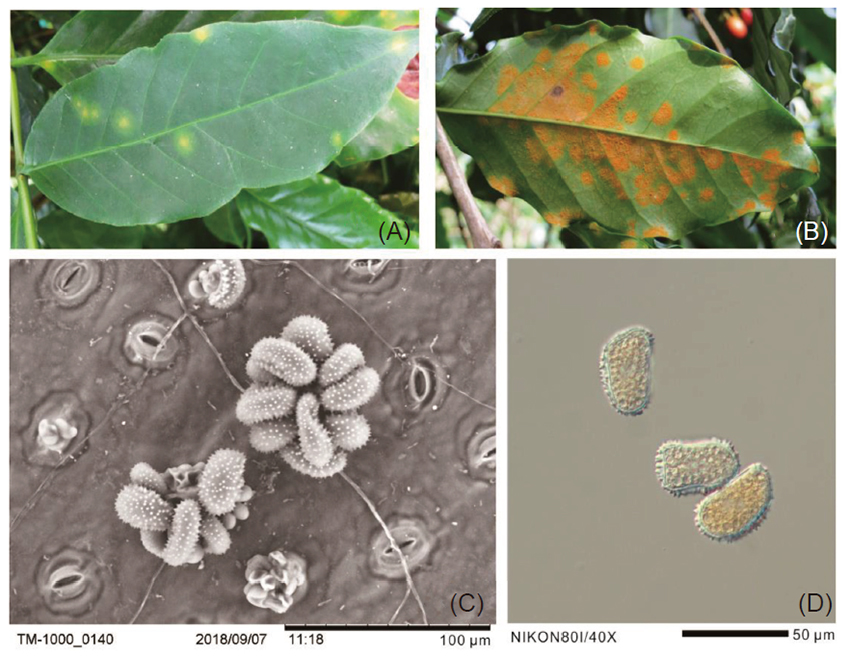 The symptoms caused by Hemileia vastatvix on coffee leaves and morphology of urediniospore. (A) Yellowish spots on the coffee leaf in initial stage, (B) orange, powdery blotches occur on the underside of leaves, (C) scanning electron micrographs of urediniosporic sorus on the underside of a coffee leaf, and (D) light microscope of urediniospore.
Author:Hui-Fang Ni, Sui-Li Hsu, Su-Yu Lai, Shu-Fen Chang, and Ching-Yi Lin*
Abstract:
Coffee rust disease caused by Hemileia vastatvix is one of the main limiting factors of coffee production worldwide. In Taiwan, coffee rust disease mainly occurs from August to December, and lower coffee tree canopy has more disease severity. With free water at 20–25℃, the spore germination ratio over 72% in 6 h. Spore germination was inhibited under 10, 35 and 40℃. Because currently recommended fungicides are not available for control coffee rust in Taiwan, the work present here was to evaluate the effects of neutralized phosphorous acid and 4-4 Bordeaux mixture on coffee rust, respectively. In field experiments, both materials suppressed the coffee rust disease with a reduction in disease severity, and noticeable suppression efficiency was found on the coffee trees sprayed with 4-4 Bordeaux mixture. Applicable timing and frequency of spraying 4-4 Bordeaux mixture were also conducted in field. The results indicated that spraying 1–2 times before rainy season was effective in suppress coffee rust disease. The disease severity was 5.45% at 3 mo after spraying once, while disease severity was 4.23% at 3 mo after spraying twice. In vitro inhibition of germination of H. vastatvix urediniospores was observed and indicated that 4-4 Bordeaux mixture exert some toxic effects to the fungi. In addition, coffee berries showed 8.43 mg kg-1 of copper residues at 3 mo after spraying 4-4 Bordeaux mixture. The copper residues of coffee berries observed in this study are far under the European existing maximum residue levels for copper compound of coffee bean. Thus, it suggests that 4-4 Bordeaux mixture may be used for controlling coffee rust effectively and safely. The study provides important reference for management of coffee rust disease in Taiwan in the future.
Key words:Bordeaux mixture, Neutralized phosphorous acid, Coffee, Coffee rust disease
Download:

PDF Links