Occurrence of Agasicles hygrophila (Coleoptera: Chrysomelidae) and Its Potential for Biocontrol on Alligatorweed, Alternanthera philoxeroides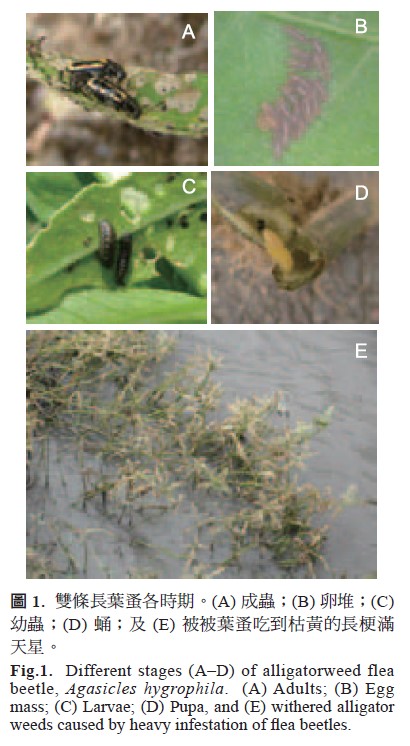 Different stages (A–D) of alligatorweed flea beetle, Agasicles hygrophila. (A) Adults、 (B) Egg mass、 (C) Larvae、 (D) Pupa, and (E) withered alligator weeds caused by heavy infestation of flea beetles.
Author:Chin-Ling Wang*, Yu-Chen Hsieh, Feng-Chyi Lin, and Mou-Yen Chiang
Abstract:
    The alligatorweed fea beetle, Agasicles hygrophila Selman & Vogt (Coleoptera: Chrysomelidae) is monophagous on alligator weed, Alternanthera philoxeroides (Mart.) Griseb..  Both larvae and adults feed on leaves and may cause serious damage on plants when the insect population is high.  The fea beetle was reared under standard insectary conditions at 26-27°C, and a 24 hour photoperiod (continuous light).  The egg incubation period was about 5 days and the larval developmental time was 12-13 days.  The pupal stage was 4-5 days.  Average longevity of female adults was 25.3 days, with an average of 258 eggs laid per female.  Results of feld surveys showed that the fea beetle oc-curred locally on alligator weed, with higher population densities in spring and autumn.  Heavily infested plants became withered and died.  High temperatures in the summer was favorable for the growth of alligator weeds but was unfavorable for the development and reproduction of the fea beetle.  Although these alligatorweed fea beetles may reduce growth vigor of alligator weed, the natural pop-ulation of this insect had little functional value for control of this weed due to differences in optimal growth temperature.  Mass rearing and feld release of the fea beetles may increase population densi-ties for the control purposes.  Importation of a heat tolerant strain may also alter the current relation-ship between the fea beetle and alligator weed.
Key words:Agasicles hygrophila, Alternanthera philoxeroides, Taiwan, Biocontrol
Download:

PDF Links