An Improved Ultra Performance Liquid Chromatography Method for Analyzing Lutein Content of Vegetables in Taiwan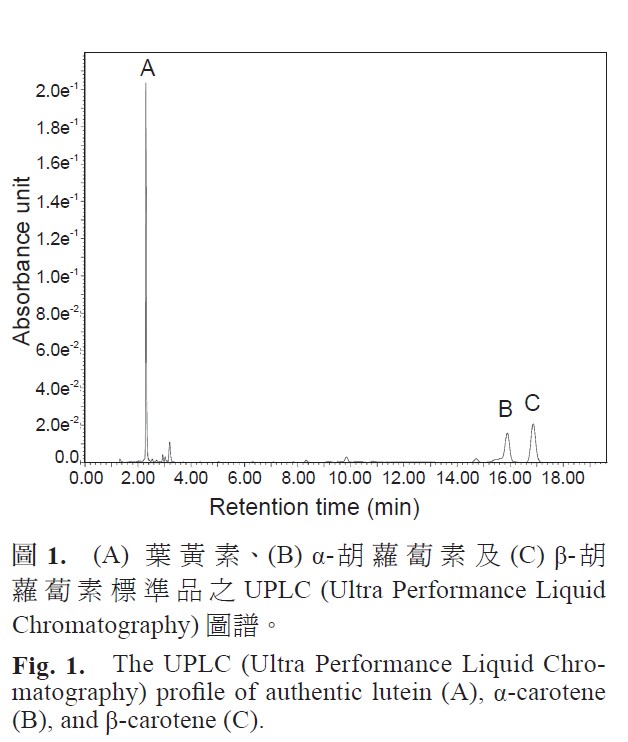 The UPLC (Ultra Performance Liquid Chromatography) profile of authentic lutein (A), α-carotene (B), and β-carotene (C).
Author:Shu-Chin Lo* and Pei-En Chung
Abstract:
    Lutein can mitigate eyes' aging and macular degeneration, but cannot be synthesized in the human body. It must be supplemented from diet. An efficient method for separation and quantification of lutein was developed to establish the database of lutein contents of various commercial vegetables in Taiwan. By ultra performance liquid chromatography, lutein can be analyzed within 5 min using ethylene bridged hybrid (BEH) C18 as a column and an isocratic elution solution of acetonitrile/ methanol (70 : 30, v/v) at a flow rate 0.25 mL min-1. The α-carotene and β-carotene could also be determined simultaneously. The results showed that lutein contents ranged between 0.16 to 1.77 mg g-1 dry weights among 50 vegetable samples. The lutein contents of eight samples were higher than 1 mg g-1 dry weight, and most of them were dark green leafy vegetables, including coriander, water spinach, rapeseed and Chinese kale. The highest was coriander's leaves, up to 1.77 mg g-1 dry weight. The contents of lutein in the dark green leafy parts were higher than the stems of the yellow and white vegetables. However, the contents of lutein in leaves of the inedible parts of white vegetables were higher than the edible parts. The lutein content of cucumber peel was higher than the pulp up to 2.6 times. According to the differences between vegetable colors and lutein contents, consumers can choose dark green leafy vegetables to increase daily intake of lutein. The content of lutein in the inedible parts of vegetables, usually regarded as agricultural wastes, is higher than in the edible parts. Therefore, these wastes are valuable for value-adding applications in the future.
Key words:Lutein, Vegetables, Ultra performance liquid chromatography
Download:

PDF Links