Cloning and Functional Expression of Cinnamate 4-hydroxylase Gene from Angelica dahurica (Bai Zhi) and Producing 8-hydroxybergapten in Yesat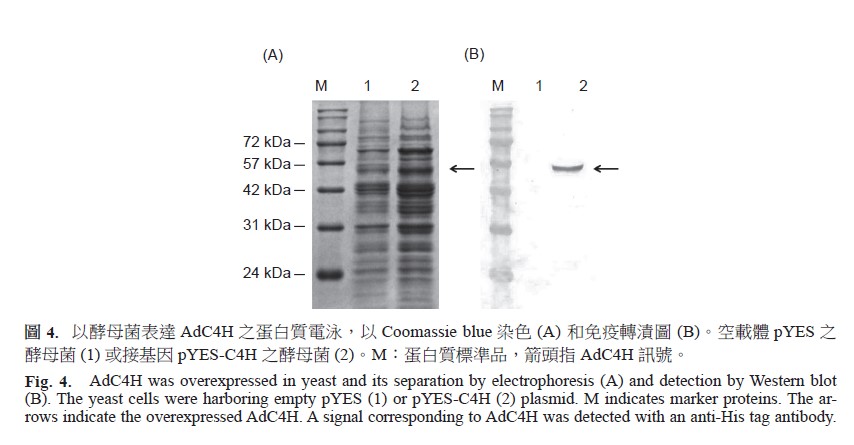 AdC4H was overexpressed in yeast and its separation by electrophoresis (A) and detection by Western blot (B). The yeast cells were harboring empty pYES (1) or pYES-C4H (2) plasmid. M indicates marker proteins. The arrows indicate the overexpressed AdC4H. A signal corresponding to AdC4H was detected with an anti-His tag antibody.
Author:Shu-Chin Lo* and Pei-En Chung
Abstract:
    Cinnamate 4-hydroxylase (C4H) is an enzyme of phenylpropanoids pathway, which can synthesize plant secondary metabolites, including furanocoumarin, a type of pharmaceutical components in Bai Zhi. To characterize C4H gene, the complementary DNA of AdC4H was cloned from Bai Zhi root using degenerate primers designed from the highly conserved regions of other plant C4H. The tandem 5'- and 3'-rapid amplification of cDNA ends via polymerase chain reaction was used to obtain the full-length AdC4H cDNA sequences (accession no. KJ453107). The AdC4H cDNA contains an open reading frame of 1,518 bp encoding a polypeptide of 505 amino acids with a molecular mass of 57.9 kDa. Amino acid sequence alignment demonstrated over 74% identities on protein level between AdC4H and its homolgous proteins among plant species. They possess all cytochrome P450-featured conserved region A-F and six substrate recognition sites. The full length of AdC4H coding region was introduced into pYES2/NT vector. Besides, the full length of cytochrome P450 reductase ATR1 cloned from Arabidopsis thaliana was introduced into pYES3/CT vector. The transformed yeast cell (Saccharomyces cerevisiae) harboring two different plasmids (pYES-C4H and pYES3-ATR1) were obtained by growing in the medium without containing tryptophan and uracil. The recombinant AdC4H protein was overexpressed in yeast and partially purified. The recombinant AdC4H revealed optimum activity in pH 6.0 potassium phosphate buffer at 25℃. It suggested that AdC4H together with ATR1 overexpression showed highly efficient catalysis of 4-hydroxylation of cinnamate, the ρ-coumaric acid was increased from undetectable to 62.9 μM. The yeast harboring two plasmids also catalyzed bergapten to 8-hydroxybergapten. The IC50 value of tyrosinase inhibition in the medium was 1.35 mg mL-1. The AdC4H enzyme that belongs to a member of cytochrome P450 ClassII family may be a transmembrane protein and its enzyme activity can be detected with reductase from different plant species.
Key words:Angelica dahurica, Cinnamate 4-hydroxylase, Cytochrome P450
Download:

PDF Links