Effects of Nitrogen Fertilizer Amounts and Lighting Treatment before Harvest on Growth and Nitrate Content of Lettuce (Lactuca sativa) under Protected Structures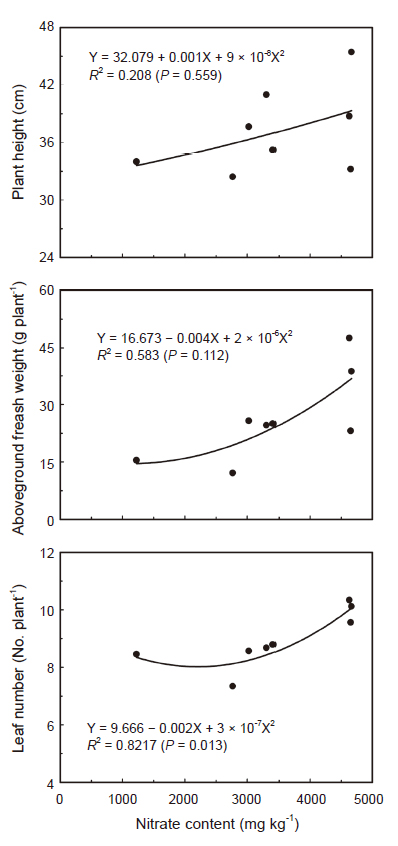 Changes in plant height, aboveground fresh weight and leaf number in plants of lettuce (Lactuca sativa var. 'Ming Feng No. 3') grown under protected structure with nitrate contents of plants that treated with varied amounts of nitrogen fertilizer.
Author:Chiao-Ling Hsiao, Chia-Hsun Ho, and Chwen-Ming Yang*
Abstract:
Accumulation of nitrate content in leafy vegetables is affected by not only genetic factors but also nitrogen (N) fertilization and lighting conditions during plant growth. Pot experiments were conducted under a protected structure covered with plastics in an experimental farm located in the Taiwan Agricultural Research Institute. Four amounts of N fertilizers were applied during growing period of lettuce (Lactuca sativa cv. 'Ming Feng No. 3'). Supplemental lighting was provided by different artificial light sources at 4 or 6 h before harvest. A total of 6 supplemental lighting treatments using light-emitting diode (LED) and energy-saving light bulb (ELB; a compact fluorescent lamp) were used as light sources and plants treated with no light as a control. Results showed that plants treated with N fertilizer at a rate of 30 and 203 kg N.ha-1 had comparatively lower nitrate contents than those of higher N inputs. Increasing the amount of N fertilizer promoted plant growth. Plants after being applied with higher N rates (346 and 376 kg N.ha-1) showed better growth, in terms of traits of plant height, aboveground fresh weight and leaf number, however, higher N generated a greater nitrate accumulation. The contents of nitrate were compared in lettuce plants after being treated with 6 h of supplemental lighting of blue light LED (LEDB), red light LED (LEDR), 3 blue/1 red mix LED (LED3B:1R), 3 red/1 blue mix LED (LED3R:1B), or ELB before harvest. The results indicated that a lower nitrate content was found in plants treated with supplemental lighting prior to harvest in all 4 nitrogen application rates, compared to that of plants without light treatment. At the highest nitrogen rate of 376 kg N.ha-1, the nitrate content reduced by 14% and 23% with the treatments of LEDB and LED3B:1R, respectively. No difference was found among plants treated with 4 h and 6 h of supplemental lighting of either LEDB or ELB in plants applied with 376 kg N.ha-1. The relationship between photosynthetic rate (i.e., net CO2 flux) and nitrate content was curvilinear, in which nitrate content was decreased curvilinearly with the increasing of photosynthetic rates in leaves of lettuce. At photosynthetic rate greater than 4.5 μmol CO2 m-2 s-1, nitrate content was maintained in less than 3,000 mg kg-1 (3,000 ppm). Accordingly, this study demonstrated the effects of nitrogen fertilization on nitrate content and growth performance in lettuce. To further reduce nitrate content at time of harvesting, a supplemental lighting by artificial light sources for 4 h prior to harvest would be as effective as that of 6 h to save energy cost.
Key words:Nitrate, Lettuce (Lactuca sativa), Light environment, Light-emitting diodes (LEDs), Nitrogen fertilization
Download:

PDF Links