Studies on the Influence and Application of the Hybrid Weakness Complementary Genes :
Hwc-1
and
Hwc-2
in Rice Oryza sativa
I. The Influence of
Hwc-1
and
Hwc-2
Genes on Agronomic Traits and Genotypic Investigation of Rice Cultivars in Taiwan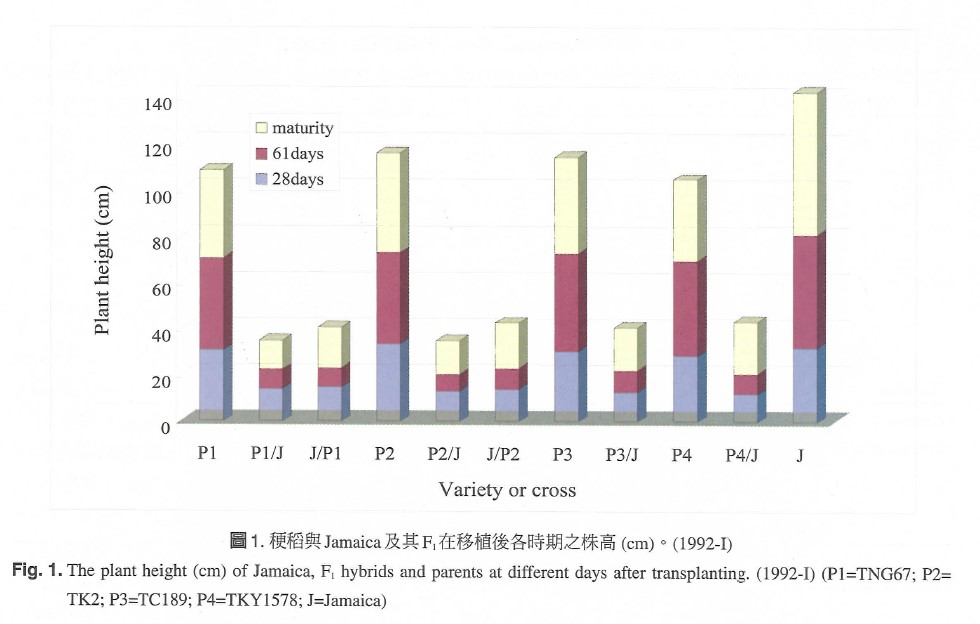 The plant height (cm) of Jamaica, F1 hybrids and parents at different days after transplanting.(1992-I) (P1=TNG67, P2=TK2, P3=TC189, P4=TKY1578, J=Jamaica)
Author:Tung-Hai Tseng and Chang-Sheng Wang*
Abstract:
As a self-pollinated crop, 0-6 % natural pollination rate were still observed in the cultivated rice, Oryza sativa. To prevent the pollen contamination, the colored rice such as red and black waxy rice varieties were neither encouraged nor introduced to the farmers. The hybrid vigor has been studied and utilized in rice for a long time nonetheless little was known on the hybrid weakness. It was reported that in rice the hybrid weakness is controlled by a set of complementary genes: Hwc-1 and Hwc-2. In this report, we study the influence of the Hwc-1, Hwc-2 genes on the agronomic traits of the F1 and investigate the genotype of rice cultivated in Taiwan. When the F1 plants contain both Hwc-1 and Hwc-2 genes they present significant hybrid growth weakness on the seedling and plant height. At maturity, most of F1 hybrids of Jamaica have only one panicle with an average length at 10.6cm ; the yield components: panicle weight, panicle number, spikelet number per panicle, and grain weight per plant also showed hybrid weakness however 1,000 grain weight and seed-set rate were not influenced. The F2 seedlings height segregated as 9 (growth weakness): 7 (normal) indicated that the hybrid weakness was controlled by a set of complementary genes. In general, rice varieties have either Hwc-1, hwc-2 or hwc-1, hwc-2 genotypes however the Jamaica variety contains hwc-1, Hwc-2 genotype. To investigate the genotype of rice cultivated in Taiwan, 140 test crosses were made by crossing Jamaica with 111 Japonica (Ken-rice) and 29 Indica (Sen-rice) varieties (lines). The results showed that 103 (92.79%) crosses of Ken-rice and 4 (13.79%) crosses of Sen-rice showed F1 hybrid weakness indicating that the dominant Hwc-1 gene exits in most of the Ken-rice however, most Sen-rice contain the recessive hwc-1 genotype. More than 90% rice cultivated in Taiwan are Ken-varieties therefore, if the Hwc-2 gene of Jamaica were introduced to the colored rice varieties that will be able to eliminate the pollen contamination from colored-rice by the expression of hybrid weakness, and hence increase the farmers' willingness and earning of rice cultivation.
Key words:Rice, Hybrid weakness, Complementary genes, Indica, Japonica, Pollen contamination, Natural pollination, Colored rice
Download:

PDF Links