Safe production of mushrooms
Figure 1: (A) Composting in the indoor tunnel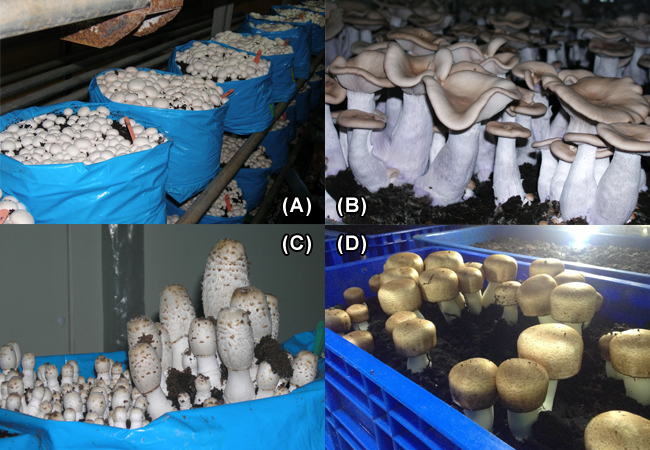 Figure 2: Mushroom growing on the substrate prepared by the new composting technology: (A) button mushroom
Taiwan produces 140,000 ton of mushrooms each year, with an annual output value of NT$8.8 billion (US$295 million). Most of the mushroom cultivation in Taiwan uses compost as a substrate. However, the traditional method of preparing compost substrate is usually labor intensive (4 to 8 persons per preparation) and resources consuming (50 liters of fuel to steam sterilize compost for 82 square meter area) with low yield. Moreover, the compost derived from the traditional method is usually heterogeneous with foul smell and likely to harbor pathogens or pests. To overcome these shortcomings, TARI has devised an indoor composting technology, i.e. the so-called tunnel composting, which reduces odor pollution, improves compost quality, shortens time of preparation, and stabilizes the compost yield. The whole composting process with this new technology requires only two persons and needs no fuel for steam sterilization. After thoroughly wetting and mixing with organic additives, chopped rice straws pieces at 2.5-5.0 cm long are composted in tunnels under controlled temperature regime and regulated ventilation. Compared to the traditional method, this new composting technology saves NT$3,000 (US$100) per operation. It is estimated that mushroom farmers will gain extra NT$7,000 per ton of compost. With this new composting technology, 5 ton of rice straw will produce about 9 ton of compost. Thus 5 ton of rice straw would translate into NT$60,000 (US$2,000) of profits after deducting input costs. With five cropping of button mushroom(Agaricus bisporus) in one year, the total gain will be NT$300,000.
Taiwan produces some 1.3 million ton of rice straw every year. Much of them are burn and wasted. With the new composting technology, the waste can now turn into real profit as a valuable substrate for mushroom cultivation in the lowland area. It also contributes to reducing the air pollution and carbon emissions caused by straw combustion. The technology has been successfully applied on growing button mushroom, wood blewit (Clitocybe nuda), shaggy ink cap (Coprinus comatus), and almond mushroom (Agaricus blazei). The newly developed technology has been patented in Taiwan for the composting device (M277749) and the method of preparing mushroom growth substrate (I275346). The technology is well received by the mushroom farmers and biotechnology companies in Taiwan.
The method has successfully turn massive rice straw and sugarcane bagasse into compost for mushroom cultivation. Apart from growing button mushroom, average yields for wood blewit and shaggy ink cap are 175 kg and 190 kg, respectively, from one ton of these composts. With Pangola forage grass-based compost, average yield of almond mushroom is 132 kg/ton of compost, which is 20% higher than container bags with sawdust as substrate. Almond mushroom grown on Pangola forage grass-based compost are uncontaminated by heavy metals and safe to consume.